How to Earn Affiliate Income from Your Blog, YouTube & Social Media
Affiliate marketing is one of the most common ways content creators & Influencers make money online.
According to my first-year blogging income report, affiliate marketing contributes 73% of my monthly income.
But what I've realized after trying affiliate marketing myself for a year is that it's not as easy as I thought it would be.
In this article, I'll share my realistic view on affiliate marketing and all the programs that I've tried as a beginner content creator.
What is Affiliate Marketing & How Does it Work?
Affiliate marketing is the process of promoting someone else's product or services online. You'll get paid a commission for each successful sale that you refer.
How are Affiliate Sales Tracked?
You'll be promoting products through an affiliate link that is unique to you.
Types of Affiliate Commission Payout:
There are 3 ways you can get paid from affiliate marketing:
| | |
| --- | --- |
| Affiliate Type | How You'll Get Paid (example) |
| Referring a sale (most common) | 1 to 10% of the product's sale amount |
| Referring sign-ups / app installs | Usually a fixed amount (e.g.: USD2 per referral sign up) |
| Referring clicks | Earn $0.10 for each unique click |
Types of affiliate payouts
How Much Can You Earn From Affiliate Marketing?
There's no limit when it comes to affiliate marketing income. But according to Scaleo.io, the typical monthly income for an affiliate marketer with a majority North American audience:
Bottom line: Affiliate marketing can be lucrative, but it's not easy.
How to Pick What Affiliate Products to Promote
That reality is, if you're new, nobody trusts you enough to buy anything that you're promoting. So I highly recommend you forget about promoting anything and focus on growing your audience.
You can grow your audience by picking a niche (specialty) and consistently publish helpful content around your topic.
Once you gained a decent audience, you can start promoting products that are:
Related to your niche, and
Something that you use or like
For example, this is a personal finance blog, so promoting credit cards and investing apps that I enjoy using would make sense.
Now that you what to promote, let's see how you can find any product's affiliate program:
How to Find Affiliate Programs
Most companies nowadays will have some sort of affiliate program to help sell their products online. Just Google: '<product name> affiliate.'
For example, I've been using a paid WordPress plugin called ShortPixel that boosts the loading speed of this website by 20%. I'm pretty happy with my experience and would love to recommend this plugin to my readers who also have a website.
All I had to do is to Google 'Shortpixel affiliate.' It's usually the top result:
After signing up, I can generate my affiliate link and start promoting it to my audience. So if you want to improve your website's loading speed, check out the ShortPixel plugin.
See what I did there?
Affiliate marketing is not only for big brands. Nowadays, affiliate programs are available to anyone who has something to sell online.
For instance, when my favorite personal finance blogger, Suraya from 'Ringgit oh Ringgit' announced her new ebook; Money Stories, I thought it was a highly relevant product to promote to my readers:
I registered as an affiliate on her website and promoted her ebooks on my blog & social media. Over the span of a month, I did manage to sell 2 of her ebooks, and here are my earnings:
I'd recommend a beginner to register & promote through an affiliate network, which I'm covering next:
Promoting Through an Affiliate Network Company
An affiliate network acts as a middleman between you (the affiliate) & thousands of brands that you can promote from one convenient login dashboard.
Although the affiliate network takes a small cut from your earnings, the benefits outweigh the cons in one area:
Most big brands only want to deal with people who have many followers or websites with thousands of monthly traffic.
So if you're a new website or social media profile without that much traction, most big brands won't entertain your affiliate application.
But it's easier for you to get approved for the same brand through an affiliate network.
Here are some affiliate networks that I'm registered with that you can also join:
Because most of my current readers are from Southeast Asia, I promote products mostly advertised on Involve Asia. Plus, their dashboard is the most user-friendly (in my opinion).
The feed in the middle shows all the brands that I can promote & on the right is a snapshot of my overall marketing performance: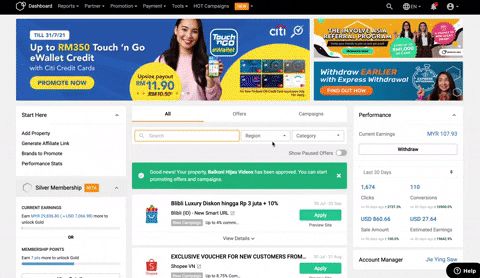 Promoting products on popular marketplace websites such as Lazada, Shopee & Tokopedia can be done on Involve Asia.
Now that you know what to promote and how to get your affiliate links, let's see where you can place your links:
Where Can You Promote Your Affiliate Links?
You have to give people a reason to click on your affiliate links. From my experience, inserting my affiliate links in a review often works well for me.
People who are interested in the product and enjoy my review will most likely click on my affiliate link to check out the price and more details of the product.
So the key to getting people to click on your affiliate links is to create review content of the thing that you're trying to promote.
In the next section, I'll share live examples of my review content and where I placed my affiliate links:
On Your YouTube Channel
For YouTube videos, you can place your affiliate links in each of your video's descriptions. Here's a video of me promoting a robot vacuum: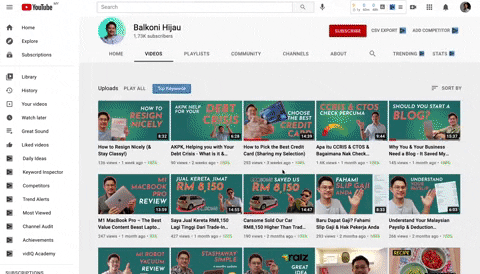 On Your Social Media Profile
Instagram is the most limiting, as there are only 2 places where you can place a link, first in your bio:
The 2nd in IGTV video description, here's an example:
You have a little more freedom on Facebook, Twitter, and LinkedIn, where you can place your affiliate links directly in a post.
Check out my guide on how to get your first 1,000 followers on Twitter, organically & fast here.
The following example is from my LinkedIn video, where I placed an affiliate link in the comment section:
But as I've mentioned, all social media companies don't like you taking their readers out of their platforms. So their algorithm will limit the reach for any post with external links.
Limitations like this are why you should not rely on social media and why a blog is better for ultimate freedom:
On Your Blog
You can do whatever you want on your own website. I placed a list of all of my recommended products on my blog's resources page & make sure it's always up to date:
Here is an example where I placed my affiliate links in my article reviewing cheap coffee: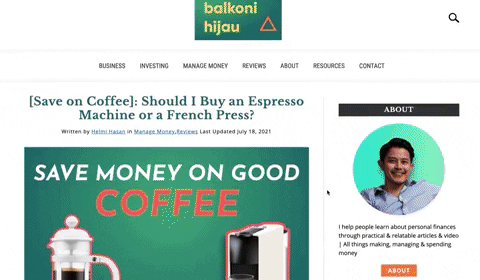 Compared to social media, you'll have far more control and freedom on where to place your affiliate links.
Recap on Best Practices for Newbies
Focus on earning an audience on your topic of choice first
Only promote products that is highly relevant to your topic
Best to pick something that you like using yourself
Create a unique, honest review about that product and insert your affiliate links
SEO your content and promote your content as much as possible
Other Examples of Me Promoting Affiliate Links
There you have it. These are all the brands that I've successfully earned affiliate income from. I'll add more if I discover new programs.
Share this post with your friends if you find it helpful & leave a comment if you know any other affiliate programs that worked for you!