Hideaway Water Filter Jug that Does Not Clutter Your Small Kitchen
I have found the best hide-able water filtration solution for my small kitchen:
Drinking water doesn't taste of chlorine or metallic
Filtered water can help to prevent limestone build-up in water boiling appliances
Relatively cheap cartridge (~RM 36 a month)
The water is safe to drink from bacterial contamination
Looks good – minimalist design, no exposed pipes or bulky dispenser
Able to hide away into the kitchen cabinet when not in use
I choose the BRITA brand water filter jug because it is a common household product in the States, and I had used it in my kitchen when I was studying there.
Why I Need a Specific Water Filter Solution
Lingering odd, chlorine taste of the tap water, even after boiling
Ugly and bulky current water filter that take up too much countertop space
So I did online research to find the perfect solution for my newly renovated kitchen to solve the above problems.
5 Criterias I Look For in a Kitchen Water Filter
It must be affordable. Paying monthly installments for a Cuckoo water filter is ridiculous
I don't need a water filter + dispenser. I only need a water filtering solution
It must be small and able to be stored away because I have minimal kitchen counter space
Must not run on electricity – I don't want to pay for electricity & I don't have enough power sockets anyway
Must not have any pipes coming out of my kitchen tap – that's super ugly in a minimalist kitchen setting
3-Stage Water Filtering Solution for a Small Kitchen
After a few hours of online research, I found that the Brita brand water filter jug + an electric kettle made the most sense for my situation.
Compared to the Cuckoo-style water filter + dispenser, my solution is a little tedious, but I don't want a bulky machine on my kitchen countertop.
Here's how I prep drinking water for my home:
STEP 1: I filter my tap water using the BRITA water jug
STEP 2: I then boil the filtered water using an electric kettle
STEP 3: I let the boiled water cool down and transfer it into another water jar for storage
When not in use, I store the BRITA filtering jug away in my kitchen cabinet, out of sight
Water tastes normal, making tea and coffee also tastes better, no messy pipes lying around and no ugly water filters to spoil my modern minimalist kitchen countertop. Nice!
STEP 1: Filtering Tap Water Using BRITA Water Jug
There are 2 sizes for the Brita Water filter (2.4L & 3.4L). Since I will be using this to filter all the drinking water for my house, I bought the biggest water jug they have (3.4L), called the Brita Marella XL.
Filtering 1L of tap water takes roughly 1 min:
How Often to Change the BRITA Cartridge & Price?
BRITA's website recommends changing the filter cartridge every 4 weeks or 150 liters of use. Since I only filter out about 50L of tap water a month, I can theoretically stretch out my filters' change to 6 – 8 weeks, which saves me even more money.
Here's what the cartridge looks like:
The filter cartridge is called MAXTRA + and is sold on Lazada and Shopee for around RM 37 per cartridge. The price per cartridge will go down if you buy in bulk.
There's a reminder of when you should change the filter cartridge on the lid of the BRITA jug. You can reset the reminder every time you change a new filter cartridge:
I think most owners will never have to replace the calculator screen-looking indicator's battery throughout the lifetime of the product.
Is the Filtered Water From the BRITA Jug Safe to Drink?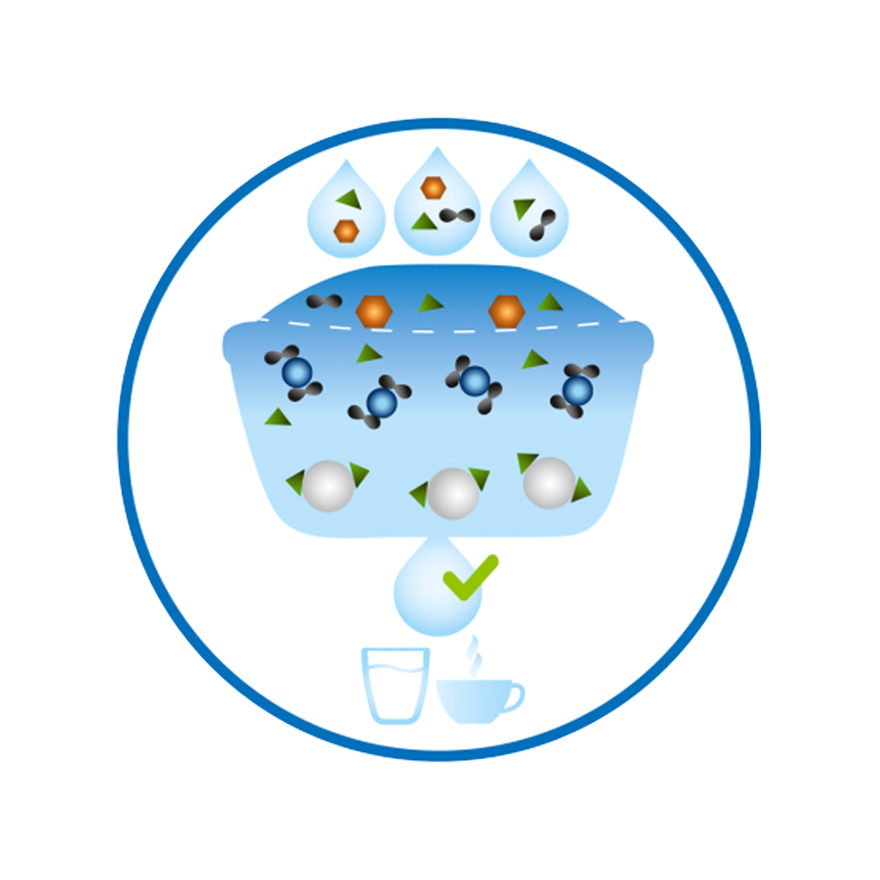 The short answer is no.
The BRITA filter only restores the taste of water. It filters out metallic components water might pick up along the way from where it's stored (like your tank) and old pipes.
But BRITA does not advertise its filters to eliminate pathogens such as bacteria. That's why I proceed to boil the filtered water:
STEP 2: Boiling the Filtered BRITA Water
The BRITA filter removes any limescale and helps to prevent build up in
You can use any kettle to boil your water. But to keep my new kitchen modern minimalist theme, I bought a new electric kettle that has:
Matt black finish to compliment my new kitchen's modern theme
Double-walled insulation keeps the water hot for longer.
UNDERRATED FEATURE: The double-walled insulation prevents me from reboiling the water when I forget to make tea or coffee immediately after the water is boiled.
STEP 3: Storing the Treated Water
After the tap water is filtered and boiled, I let it cool down to room temperature and then transfer the treated water into water containers for storage.
I keep 1 bottled water Tupperware in the fridge and the remaining water in another water bottle at room temperature.
BONUS Usage of BRITA Filter Jug
Since the BRITA water filter helps to block limescale build-up (the white stuff you see in electrical appliances used to boil water), I now exclusively use BRITA filtered water to prolong the life of all of my equipment that boils water:
Electric water kettle
Steam Iron
Steam Cleaner
Is it Worth it?
This solution is a little bit tedious compared to the Cuckoo-style water filter + dispenser. But since the BRITA water filter jug solves my problems, I believe it is worth it:
Makes water tastes normal
Prevent limescale build-up on water boiling appliances
I can hide the jug away when not in use
Relatively cheap cartridge replacement cost
You can get BRITA water filter jug below: